Become the galaxy's greatest pirate in Flinthook, the metroidvania roguelite platformer game developed and published by Tribute Games and Alouette Games. In which the player's character uses a grappling hook to traverse procedurally generated spaceships for treasure. The developers were inspired by "rogue-lites" including Spelunky and Rogue Legacy. They said that the grappling hook game mechanic was their hardest design challenge. The game was released in April 14, 2017 for Xbox One, PlayStation 4, PC, Nintendo Switch, Mac and Linux.
Flinthook is now out on Steam!
Story
[
]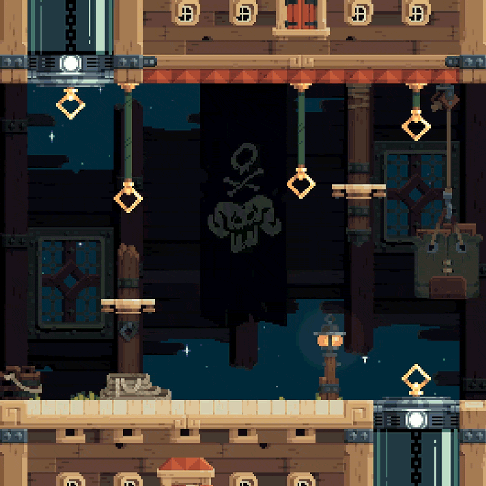 In a galaxy filled with scoundrels and miscreants, everyone seeks treasure and riches!
But when a malevolent treasure hunter hatches a sinister plan to unleash an ancient evil to threaten the cosmos itself, Flinthook, the galaxy's smallest but toughest pirate zips into action!
Be ready to jump, zip and blast around the meanest fleets the galaxy has to offer!
Whether using time-slowing powers or his trusty Blasma Pistol, Flinthook is ready to take on all pirates, steal treasure and save the galaxy itself!
Features
[
]
Hook into action!
Shoot, loot and plunder!
Videos
[
]
Intro
[
]
External links
[
]